Fr. 20. April 2018, 20:30 im M8, Mainz


- bestuhlt, freie Platzwahl -

Der Vorverkauf ist beendet!
Jetzt nur noch Restkarten (ca. 50) an der Abendkasse für 35 €
Kassenöffnung 19:30.

Pat Martino (guitar)
Pat Bianchi (Hammond B3 organ)
Carmen Intorre (drums)
INFO (pdf 169K)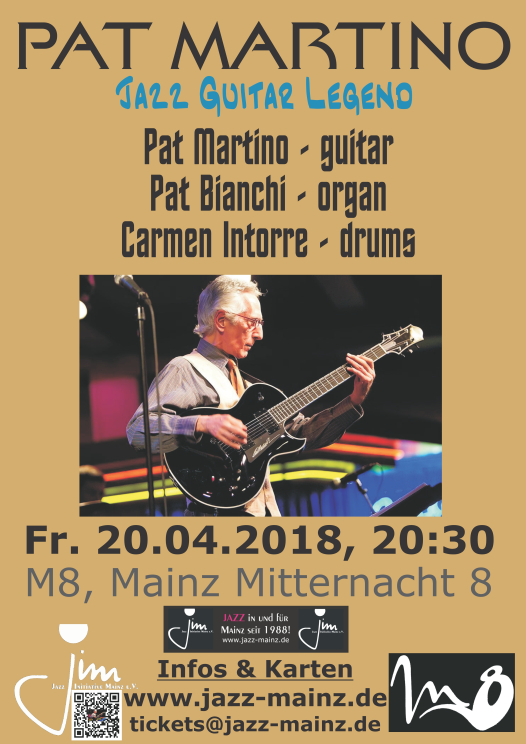 TICKETS: AK: 35 €



Pat Martino

(* 25. August 1944 in Philadelphia als Patrick Azzara) ist ein US-amerikanischer Jazzgitarrist und Komponist. Er hat sich als einflussreicher Gitarrist, der zahlreiche weitere Gitarristen beeinflusste, mit vollendeter Technik, Sinn für Klang und einer unvergleichlichen Differenzierung seiner perkussiven Attack" durchgesetzt. Seine strömenden Linien und ungewöhnlichen harmonischen Auslegungen, sein Picking-Staccato mit dickem weichem Plektrum und atemberaubendem Tempo machen ihn nach Martin Kunzler "unverwechselbar."

Martino hat italienisch-arabische Vorfahren und begann schon früh, Gitarre zu spielen. Sein Vater, der als Musiker aktiv war, nahm ihn schon früh zu Konzerten mit. Den Künstlernamen Martino trägt Pat Martino zu Ehren seines Vaters Carmen "Mickey" Azzara, der ebenfalls mit dem Künstlernamen Martino auftrat. Nach Unterricht bei einem Cousin, später bei

Dennis Sandole

arbeitete er bereits mit 15 Jahren als professioneller Gitarrist. Er ging auf Tournee mit Red Holloway. Dann arbeitete er mit Sleepy Henderson, Lloyd Price, Benny Golson, James Moody, Sonny Stitt und Willis Jackson, mit dem er ab 1963 auch diverse Alben einspielte. Dann gehörte er zur Band von Eric Kloss. Auch spielte er mit den Organisten Jimmy Smith, Jimmy McGriff, Don Patterson, Jack McDuff, Gene Ludwig und Richard "Groove" Holmes. 1966 wurde er als Mitglied der Band von John Handy einem breiteren Publikum bekannt und nahm ab 1967 mehrere eigene Alben auf. Ab 1979 unterrichtete er als Gastdozent am Guitar Institute of Technology (GIT) - heute

Musician's Institute

) in Los Angeles; auch begann er, Lehrbücher zu schreiben (z.B.

Linear Expressions

).

1980 retteten ihm zwei Notoperationen an einem Gehirn-Aneurysma das Leben, verursachten jedoch einen weitreichenden Gedächtnisverlust, der dazu führte, dass er zeitweilig das Interesse am Gitarrespielen und den Zugang zu seinen musikalischen Fähigkeiten vollständig verloren hatte. Dass Pat Martino das Gitarrespielen von Grund neu erlernen musste, ist eine verbreitete, jedoch falsche Legende.

1984 trat Martino in einem Club in Philadelphia zum ersten Mal wieder live auf, allerdings unter seinem Geburtsnamen Pat Azzara, da er nach eigenen Aussagen nicht beweisen wollte, wieder der "Alte" zu sein. 1987 spielte er mit Steve LaSpina und Joey Baron – nun wieder als Pat Martino – das Album The Return ein,um vertraglichen Verpflichtungen nachzukommen. Ein wirkliches Comeback hatte er allerdings erst, nachdem ihm 1980 in einer Operation ein Gehirntumor entfernt wurde. Er trat ab 1987 wieder in New York und Umgebung auf und nahm mehrere Alben auf u.a. mit Les Paul und Mike Stern. Er wirkte zudem an Einspielungen von Woody Herman, Stanley Clarke, Barry Miles, Charles McPherson, Sonny Stitt, Trudy Pitts, Jimmy Heath, Joe Pesci, Eric Alexander, Joey DeFrancesco, Royce Campbell und Lee Ritenour mit.
Diskographie
als LEADER:
2017 Formidable (High Note)
2015 Nexus w/ Jim Ridl (High Note)
2014 Young Guns w/ Gene Ludwig (High Note)
2013 We are Together Again with Gil Goldstein (Warner/Japan)
2012 Alone together w/ Bobby Rose (High Note)
2011 Undeniable (High Note)
2006 Remember (High Note)
2003 Think Tank (Blue Note)
2001 Live at Yoshi's (Blue Note)
2000 Charles Earland Tribute Band, Keepers Of The Flame (High Note)
2000 Conversation w/Michael Sagmeister (Acoustic Music)
1999 70's Jazz Pioneers Live at Town Hall NYC (1201 Music)
1999 Fire Dance w/ Zakir Hussain, Peter Block, Habib Khan (Mythos)
1998 Seven Sketches (guitar synthesizer) (Private Label)
1998 Stone Blue (Blue Note)
1997 All Sides Now (Blue Note)
1995 The Maker (Evidence)
1996 Nightwings (Muse)
1994 Interchange (Muse)
1987 The Return (Muse)
1976 Exit (Muse)
1976 We'll Be Together Again (Muse)
1976 Joyous Lake (Warner Bros.)
1976 Starbright (Warner Bros.)
1974 Consciousness (Muse)
1972 The Visit! (Muse)
1972 Live! (Muse)
1970 Desperado (Prestige)
1968 Baiyina (The Clear Evidence) (Prestige)
1968 East! (Prestige)
1967 Strings! (Prestige)
1967 El Hombre (Prestige)
1966 Pat Martino Unreleased Vanguard LP
als SIDEMAN: (Auswahl!)
2003 Incantations - Elio Villafranca (Pimienta)
2001 Disney meets Jazz Pat with Gil Goldstein (Disney)
2001 The Philadelphia Experiment with Uri Caine (ropeadope)
2000 Brotherly Love with Brother Jack McDuff (Concord)
2000 First Milestone with Eric Alexander (Milestone)
2000 Christmas with Charlie Brown with Cyrus Chestnut (Atlantic)
1998 Vincent Laguardia Gambini Sings Just for You with Joe Pesci (Sony)
1998 Right To The End with Phoebe Snow (House of Blues)
1994 6x6 - Royce Campbell (Paddlewheel/Moon Cycle)
1994 Bronx Tale - Bob Kenmotsu, Jack McDuff , Pat aka "The Kid"! (Paddlewheel)
1980 Nothing Butt - Willis Jackson (Muse)
1978 Single Action - Willis Jackson (Muse)
1978 Bar Wars - Willis Jackson (Muse)
1974 The Time and the Place - Jimmy Heath (Landmark)
1974 Headed and Gutted - Willis Jackson (Muse)
1973 These are Soulful Days - Don Patterson (Muse)
1972 One, Two, Free - Eric Kloss (Muse)
1972 Children of Forever - Stanley Clarke (Polygram)
1972 White Heat - Barry Miles (Mainstream)
1972 The Raven Speaks - Woody Herman (Fantasy)
1972 Introducing Bobby Pierce - Bobby Pierce (Cobblestone)
1970 Consciousness! - Eric Kloss (Prestige)
1969 Night Letter- Sonny Stitt (Prestige)
1968 Opus de Don - Don Patterson (Prestige)
1968 Boppin' and Burnin' - Don Patterson (Prestige)
1968 Dem New York Dues - Don Patterson (Prestige)
1968 From This Moment On! - Charles McPherson (Prestige)
1968 Horizons - Charles McPherson (Prestige)
1968 Funk You! - Don Patterson (Prestige)
1968 Sky Shadows - Eric Kloss (Prestige)
1967 New View - John Handy (Columbia)
1967 These Blues are Mine - Trudy Pitts (Prestige)
1967 Life Force - Eric Kloss (Prestige)
1967 Get Up & Get It! - Richard "Groove" Holmes (Prestige)
1967 Four Dimensions - Don Patterson (Prestige)
1966 Midnight Sun - Jack McDuff (Prestige)
1966 Walk on By - Jack McDuff (Prestige)
1966 Steppin Out - Jack McDuff (Prestige)
1966 I Got a Woman - Jack McDuff (Prestige)
1966 Hallelujah Time - Jack McDuff (Prestige)
1966 Soul Circle - Jack McDuff (Prestige)
1965 Introducing - Eric Kloss (Prestige)
1964 Boss Shoutin' - Willis Jackson (Prestige)
1964 Tell it - Willis Jackson (Prestige)
1964 Soul Night / Live! - Willis Jackson (Prestige)
1964 Live! Action - Willis Jackson (Prestige)
1964 Jackson's Action - Willis Jackson (Prestige)
1964 Holiday Soul - Don Patterson (Prestige)
1963 The Good Life - Willis Jackson (Prestige)
1963 More Gravy Willis Jackson (Prestige)
1963 Grease and Gravy - Willis Jackson (Prestige)
1960 Sometimes / Latino Twist - Ricky Tino (Singular)
INFO (pdf 169K)